Zangze CryptoPhone
The Zangze Cryptophone is a unique 4096-bit multi-layer-encrypted Smartphone designed especially for ultra-secure Peer-to-Peer communication between Members of Businesses and/or Groups. It provides this unique ability between such Members (Users) who are also using either a Cryptophone or Zangze USB Crypto Token, by utilizing the Zangze Communications Platform. When used through the Zangze Platform, no normal Mobile Provider is required, and Users only need an Internet / W-LAN connection!
Security can seem complicated; Zangze makes it simply secure for you. Because of the unique architecture Zangze Cryptophone Dynamics, it maintains end-to-end security encryption and eliminating the requirement for additional VPN licenses.
Secure communications between Users includes all TALK (VOIP), email, chat, instant messaging, data file transfer, and transfer of pictures or videos. Absolute Communication Confidentiality is assured for Businesses and/or Groups since the Zangze Platform is designed with NO Access, Copy, or Control of any User messages or data. Thus, when communications between Users is finished and terminated, no trace or any evidence whatsoever about the communications remains.
Your financial reports or your selfies, all your data is encrypted on Zangze Cryptophone and Zangze Communication Platform. Zangze Cryptophone is ultra-secure, and Zangze has taken extra steps to protect you from malware, data breaches and any attempts to hack.
However, the Zangze Cryptophone is not limited to just ultra-secure Peer-to-Peer communication. The Cryptophone is designed with the dual SIM card ability to also use a normal Mobile Provider Network as well. Thus, Users may, if they wish, bypass the Zangze Communications Platform, and also communicate (non-securely) with Non-Users on any such normal Mobile Provider Network.
High-End Hardware

- Aluminium, or Black PVD Titanium Body

- Aluminium, Black PVD Titanium, Carbon, or Leather cover

- 5.5" FullHD Gorilla Glass display

- 64Bit QUAD-CORE 4G LTE

- 32GB ROM storage, 4GB RAM

- Downlink 300 Mbps, Uplink 50Mbps

- microSD card slot supports additional 128GB

- 21 MP BSI Camera Sensor (8 MP front)

- 3080 mAh Battery with Quick Charge

- Dual Micro-SIM (1 for usual phone conversation and 1 for Zangze crypto conversation.)

- ZSS Services (email, chat, instant messaging, data file transfer and transfer of pictures or videos) are included.
Zangze create unique Cryptophone Collection of exceptional quality, from most exquisite and robust materials like Aluminum, Titanium, Gold etc. With our personalized design, you can ensure your Zangze Cryptophone is a true reflection of your individuality. You can make your Zangze Cryptophone your own by choosing from a selection of colours, leathers and designs.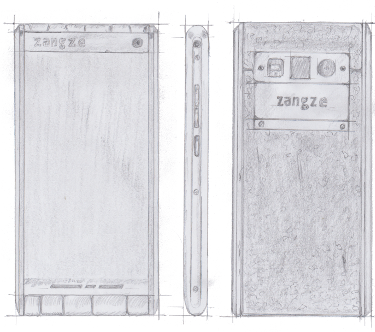 Cryptophones

& Costs list
Aluminum Collection (Standard)

CHF

1'250.00

Titanium Collection

CHF

1'550.00

Gold Collection

CHF

2'150.00

First year Cryptophone Support

CHF

99.00

First year Cryptophone without "ZSS

USB Token

"

CHF

119.00

Following year Cryptophone Support

CHF

119.00

Following year Cryptophone Support without "ZSS

USB Token

"

CHF

199.00